Gardening resources for the new gardener
This is the time of year we are thinking, planning and starting our vegetable and flower gardens. More and more people are gardening than years past for the first time. Today I am sharing gardening resources for the new gardener.
This post may contain affiliate links in which I earn a small commission from your purchase at no additional cost to you. You can read the full disclosure on the disclosure page.
Welcome to our garden blog hop, thank you to Kippi from Kippi At Home for putting this wonderful tour together.
If you are here from Leen at Sand Dollar Lane where you learned about using bags to grow tomatoes, welcome.
It is the time of year to get outside and learn some new hobbies, such as gardening.
I am sharing gardening resources for the new gardener for those that need some direction.
These tools and resources will help you get what you need to start your first flower or vegetable garden.
So what does a beginner need to get started?
Resources for beginners
Two great books to help you, The Vegetable Gardener's Bible and How to grow your own garden flowers 101. These are located here in my Amazon storefront.
There are also some great online resources for learning about gardening such as Skillshare which is a wonderful place for free courses on beginning gardening.
There is also a wonderful facebook group to learn and ask questions, The Cut Flower garden with Flowering Farmhouse.
Once you have educated yourself a bit on the basics of vegetable and flower gardening it is time to create a plan.
Creating a plan
Every year I start off by creating a home goal plan for the year and that includes gardening, see this post.
Using a garden planner is a great tool for helping you dream up your garden design and keeps you on track.
Deciding which type of flower garden you would like to have; cottage style garden, French style garden, or a cut flower garden.
For my garden plan I am going for a cottage style garden this year.
When planning take into consideration the height of your plants, what space is needed for each as well as sunlight preferences.
You can note all this in your garden planner.
The one I have used has seed pouches, planning pads, planting planners as well as chore charts for each season.
I like to keep a garden planner that help track the plants we have planted, what has worked and what has not.
Saving seeds for the next planting season is another great idea for your planner.
The planner I use is not available anymore but I have included the link to one similar.
I have found a few options for you and included them in my amazon storefront as well.
If by chance you can get out and are able to go to your local Target they may have some version of a planner in their dollar spot.
Now that you have a plan it is a good idea to figure out your planting zone.
Planting hardy zone
After you create your plan it is important to check the planting hardy zone for the optimum planting time.
https://images.app.goo.gl/JxhMKxUMSDNzdZf86
Once you have that information you are ready to get your seeds and or plants ordered or ready to go.
Online seeds and plants tools
I have rounded up some of the best resources for your gardening needs.
You can order seeds if you are in an area where there is time to start from seeds, otherwise I would suggest ordering plants.
Wether you are a new or seasoned gardener this is the perfect time to get your gardening supplies together.
These online resources are a great way to get quality seeds and allows you to begin your gardening journey.
If you are in an area where you can go ahead and plant it may be a good idea to visit your local nursery for plants rather than seeds.
This year I am trying for the first time starting from seeds.
Growing from seeds
This is the first time I have ever started anything from seeds.
I choose to get all my seeds from Floret Flowers and I ordered this starter kit from Amazon with a heat pad.
So far they have done really well and have grown a ton in just a few weeks.
I will say that I did not use the heat tray, I just sat them in front of our sliding glass doors every day.
It has been several weeks and they are just about ready to go into the ground outside.
We are just waiting for our last frost before doing so.
There are two areas that we are planning on adding these cut flower seeds to.
This area is right off of our patio area and the other is back where we have our vegetable garden which is getting a makeover as well.
This area in the back of our yard has some plants now but I am adding some of these seeds as well as some David Austin roses when they arrive.
These flower seeds have been super fun to start and I am excited to get them in the ground.
I will share an update once we actually have some things flowering so be sure to follow along at sonysburgessblog on Instagram to see how we are doing.
If you are doing vegetables rather than flowers, here are a few ideas for you.
Vegetable gardening
We typically get our vegetables from a local nursery rather than big box stores and our vegetables have done very well.
If you are planting a vegetable garden it is a good idea to mark what you have planted until you have some growth.
Get creative here and use leftover scraps of wood, large popsicle sticks or whatever you may have laying around.
It has taken us a couple years to figure out what does well in our coastal climate and may be the same for you.
Once you have it figured out it is a great family activity to tend to the garden.
Have your children help you by painting and writing out the name of the vegetables you planted.
They can also help dig up the soil and place them in the area where you want them planted.
On another note, gardening is not only great for sharing with loved ones but also has numerous health benefits.
Gardening is a great way to relieve stress and relax.
According to studies, early exposure to dirt has been linked to a reduction in allergies and lower autoimmune diseases in children.
I have included a great resource for your children to learn about gardening as well in my Amazon store.
Growing your own food is a wonderful way to help you and your children eat healthier as well.
Looking for more inspiration?
I have gathered some of my favorite bloggers to bring you lots of garden inspiration, be sure to visit each one to be inspired.
Visit my friend Lynne next at My Family Thyme and see how she grows her herbs in a hanging garden it is such a great idea.

Kippi at Home // The House on Silverado // Sand Dollar Lane // Sonya Burgess
? ? ? ? ? ?

My Family Thyme // Olivia O'Hern // Darling & Dapper Life // From Farmhouse to Florida
? ? ? ? ? ?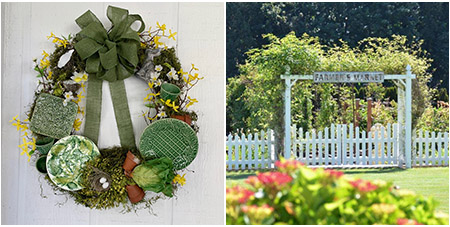 Till next time, happy planting.
Xoxo
Sonya
Comments
comments