Favorite small shops for the Holidays
I realize that Thanksgiving is a few short days away, but I wanted to share with you some of my favorite small shops for the Holidays.
When it comes to holiday shopping, I love to purchase items that family and friends can enjoy for years to come.  Putting a lot of thought into those items brings me so much joy, more so than just giving any gift.
Supporting small businesses is something I feel very strongly about. When purchasing  from a small shop, it is helping to support someones passion as well as their families.
I realize that there are items that must be purchased from big box stores, and I love me some Target, but for gift giving I love a more personal approach.
Since joining the world of Instagram, I have found some beautiful online shops that create amazing products with much love and care. I feel honored to have purchased from each of these shops and hope that you will go check them out when considering your gift giving this holiday season.
Rag quilts
Vickie at the Sew Quilt Shop by Vickie
She makes several different quilt sizes in flannel or cotton and often she does so with beautiful vintage fabrics. Since having one of her beautiful rag quilts, I can tell you that they only get softer and better with every wash.
This beautiful baby rag quilt has amazing colors, is patterned on one side and solid on the back. There are so many choices of fabrics for boys and girls and could be made to match a particular nursery design. These baby rag quilts are the perfect gift for a baby shower and will be used for many years.
If you are looking for a throw quilt, the size you would find in a big box store to cover yourself while reading or watching television. This is the perfect shop to find one for that special person, there are so many beautiful choices that would go in any home decor.
Not only does she make baby rag quilts and throw quilts, but she also makes standard bed size rag quilts.  If you are needing a new bed quilt for your room she offers twin ,full, queen or king size bed.  If she does not have a particular color made already in her shop that works for your particular need,  she will work with you on the fabric she has in stock.
I have known Vickie for most of my life, we actually grew up together so we are not just instagram friends. Her rag quilts are so well crafted and beautiful.  Gifts from her shop are meant to last a lifetime and get better with time.
Signs
Signs are all the rage and have been for a while, and I have an amazing small sign shop creator to share with you. Bree from Blue Bird Designs creates modern farmhouse and boho style signs for every home. Her instagram page is full of her beautiful designs, great for family and friends this holiday season.
If you don't see a sign already made that you would like, she also offers custom made signs, the possibilities are endless.
Candles
Scented items are great gifts for friends, teachers and everyone in between. The next small shop I would like to share is popular one and I feel certain you have heard of them.
Brittany from Antique Candle works is super sweet and makes the most wonderful candles for all the seasons. I had the pleasure of meeting her at the Haven Conference this past summer and she is such a beautiful person, inside and out.
They offer a variety of candles for all the seasons,  at such great prices perfect for gift giving.
This Christmas sample pack  includes four scents, Christmas Day, Good Tidings, Peppermint and White Pine. These four could be split into four separate little gift baskets for those special people on your list.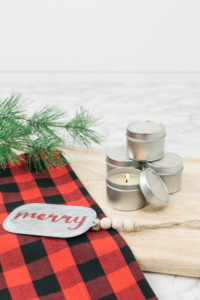 When in stock, they also offer some of their scents in vintage ball jars. Those are so popular that they are sold out right now so I was not able to share a picture of those with you, but keep checking for them to be restocked.
Bags and various leather goods
One more of my favorite shops is The Content Crown
Becki is an amazing small shop owner and offers a variety of beautiful products in her shop. You could buy for multiple people on your shopping list in her shop.
Let me show you just a few of the fabulous items she has created.
I have one of her stunning bags, they are beautifully created and meant to last a long time. I love that she uses vintage fabrics, old belts for handles, grain sacks and other various fabrics. She consistently has new products in her shop as well so you need to check back often to see what she is currently creating.
Here are some more examples of her amazing products.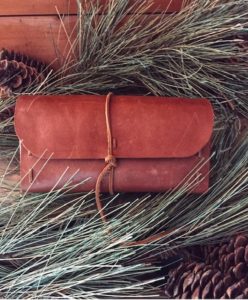 Seriously, her products are so beautifully crafted that anyone receiving them will love them for many years.
If you are wanting to support small shops this year, all of these shop owners put a lot of love and care into the creation of their products. You can feel good knowing you are supporting small business that use recycled mediums to created quality products.
Saturday, November 24th is small business Saturday. When you support small independent businesses in person or online, you help the environment, encourage community, benefit from others expertise, and invest in entrepreneurship.
I hope that you will consider supporting these small shops this holiday season while purchasing products for your friends and loved ones. If you have some favorite online small shops that you love, please share them with me.
Till next time
xoxo
Sonya
Comments
comments